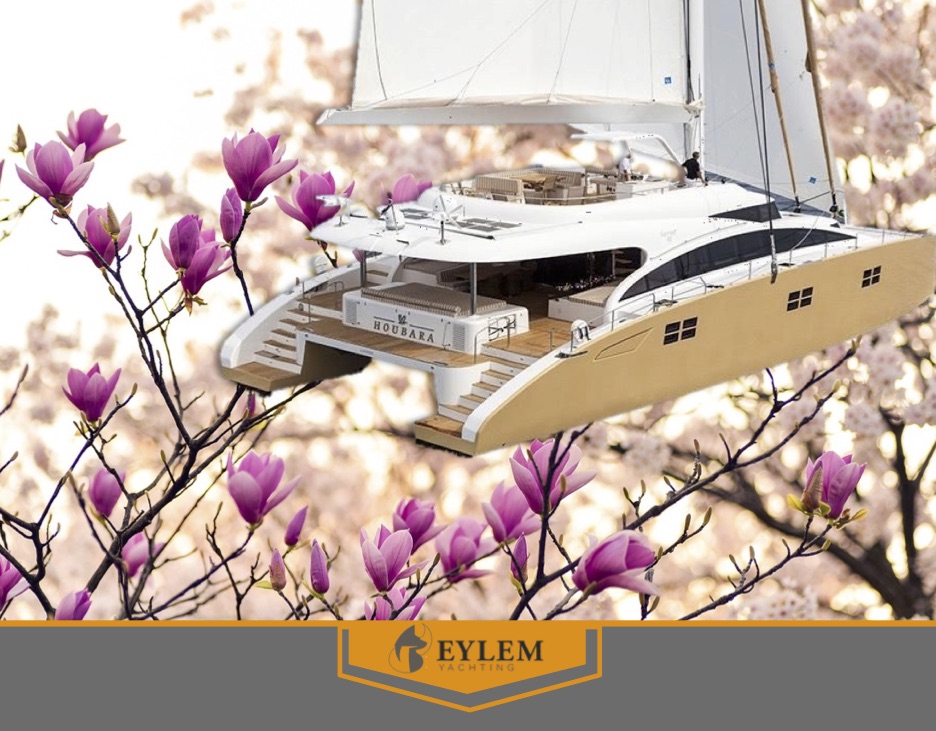 Posted 3 May
Catamarans in the Spring air
Some say Spring is in the air, we say yachting is in the air. Spring is the season when everything bursts back into life in an explosian of sight, sound and color. What better invitation to get out and explore? Take sailing catamaran "Houbara", in the picture surrounded by flowers.
But what's the deal with catamarans? For sure the best way to find out the difference between sailing an monohull and a catamaran is to try them both. In order to give you already some food for thought, here are some interesting facts and differences.
Sailing with a catamaran is quite popular nowadays. There're several characteristics that are responsible for this. The great bouyancy enables the catamaran act as sort of floating villa. They also have great manoeuvrability.
Cats have little to no heeling, due to their weight bearing. Though the adrenaline-junkies will appreciate the thrill and excitement when hanging on the side of a sailing yacht while it's under 25 degrees under full sails, if you may value comfort, stability and spaciousness more, a cat will not let you down. It all depends on what you value more. If you charter a sailing boat during peak season, you might value comfort and spaciousness more.
Comparing boats of the same length, the spaciousness of a cat stands out. Often a cat has more cabins, more space in the cabins and in the salon, basically more space onboard. Sometimes a cat has a fly bridge that results in even more space. And with the space comes more extensive lounging/ sunbathing areas.
With the spaciousness, comes more stability and comfort. With the two hulls an the space between, there tends to be more room on a catamaran. Therefore there's a bit more privacy onboard. Moving around is easy. Gangways are often more comfortable and the stability of a cat makes sure that it's even possible to prepare something to eat, have a drink or sunbath while being under sail, because the heeling will be absolutely comfortable.
The sailing experiences differ also. In most of the sailing conditions, catamarans tend to be faster. Especially downwind. Monohulls however, tend to be faster cruising windward.
Multihulls are deriving their popularity out of the fact that most of them are created for extracting maximum pleasure out of your vacation at sea.
For some more inspiration, have a look at the catamarans we have available for sale and for charter.
For sale:
Sunreef 82 Double Deck "Houbara" 25m: http://www.eylem.lu/eylem-yacht-sales/item/sunreef-82-dd-houbara
Sunreef 60 Loft 18,28m: http://www.eylem.lu/eylem-yacht-sales/item/sunreef-60-loft-2
Wonna charter first?
Sunreef 60 "Adea" is available for charter in the South of France during Summer and in the Caribbean during the winter: http://www.eylem.lu/eylem-yacht-charter/item/catamaran-adea
An extra possibility is a motor-multi hull. Try this power catamaran "Skylark": http://www.eylem.lu/eylem-yacht-charter/item/catamaran-skylark
Need some advice, would you like to see some more questions answered or just in to discuss some further? Give us a call. We're happy to see what yachting solution suits you best.
After all, the beauty of, and choice of, multi vs mono is in the eye of the beholder.