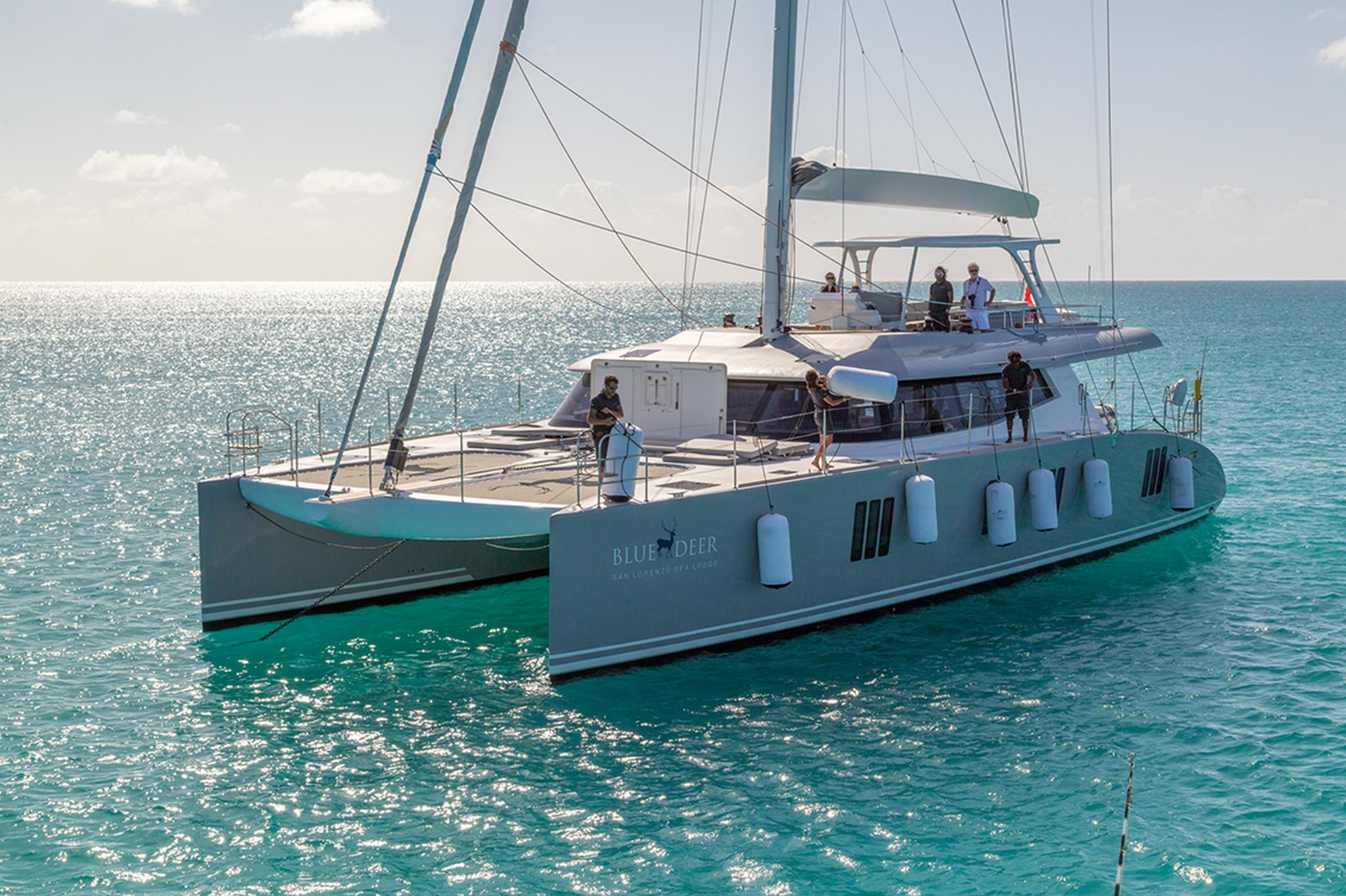 Sunreef 74 Sail
The Sunreef 74 marked a new era in lifestyle at sea, meeting the expectactions of the most demanding clientèle searching for a spacious, long range boat, easily handled by only 2 people. This advanced model has grown from the experience of Sunreef's design team in the superyacht range and in response to feedback from all the 70 Sunreef owners that are sailing all around the world. This unit stands out with its unique, innovative features and new functional solutions enhancing the notion of on-board livability.
As usual at Sunreef Yachts, the customization and space arrangement possibilities are unlimited. The Sunreef 74 is an optimized yacht offering a perfectly balanced compromise between supreme comfort, performance and advanced technology. The sleek superstructure with vertical bows and limited freeboards has large glass curved windscreens, which highlight the classy lines of this dream yacht. The Sunreef 74 is an elegant catamaran with superyacht features, intelligent space planning and a fully personalized interior finish.
Putting the pleasure of life to the fore, the Sunreef 74 model has reached a supreme level of sophistication offering an impressive 35m2 saloon with a breathtaking 360 degrees view. Her hulls are airy enough to contain a bright 20m2 master cabin with a king size bed a bath tub, two 14m2 guest cabins, large crew quarters and a fully-equipped 10m2 galley. The Sunreef 74 has also huge interior storage space, which makes her perfect for lenghty cruises, requiring additional food and equipment supplies.
Outside, generous space is also available in the forepeaks and deck lockers for toys, fishing rods, diving gear, sails or fenders. The outside storage also includes an additional locker, big enough to hold kayaks and windsurfing boards.
The Sunreef 74 can be comfortably manoeuvrered by 2 people in all offshore conditions, which, for instance, makes her ideal for couples sailing around the world, with little to no crew. In addition, all sails are handled from the flybridge helm station. The mast has been moved to the aft as to allow the use of large head sails, providing more power and balance in reaching conditions. The boat's long hulls and sporty lines increase the speed under sails and the self-tacking jib makes navigation even easier.
The mast, boom, crossbeams and even the tender lifting arms are built in carbon, which makes the Sunreef 74 light and quick, while remaining stable.
Construction: composite
Dimensions: 23,30m x 10,10m x 1,90m.
Engines: 2 x 150 HP - 2 x 225 HP
Mainsail: 182 m2
Genoa: 150 m2
Stay sail: 47 m2
Gennaker: 260 m2
For more information, please feel free to contact us.